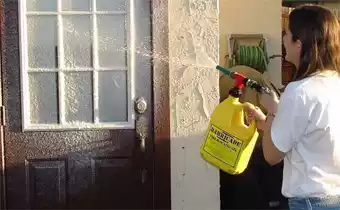 Commercial fire protection can save your business from the detrimental effects of fire before it occurs. You can be fire safe and fire smart with your buildings, structures, and assets by applying our non-toxic fire retardant gel for sale to the outside of your structures. Commercial protection through a natural fire retardant spray will coat your business in a liquid concentrate made of super absorbent polymers designed to hold many times its weight in water. Think of this commercial building fire protection gel like an absorbent sponge, holding water inside and protecting your structure from the heat and flames outside.
Need more information on fire retardant gel for sale for your commercial fire protection? We can answer your questions. Give us a call at 1-863-261-8388 or Contact Us.
Natural Fire Retardant Spray Features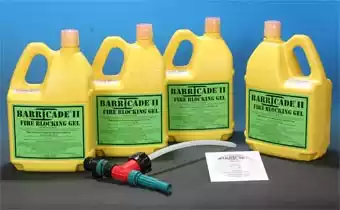 Made from Food Grade Products
Non-Toxic Composition
Super Absorbent Polymer
Natural Fire Retardant Spray Benefits
Easy to Apply and Remove
Biodegradable
Last for 24 to 48 hours
Non-Toxic Fire Retardant Gel For Sale
Commercial Building Fire Protection Gel Maintenance
Commercial fire protection needs viable solutions. Natural fire retardant spray for businesses protects your valuable assets from being destroyed by fire, and with the proper maintenance it can do this for 24 to 48 hours, depending on weather conditions. In order to successfully protect your business with natural fire retardant spray, you need to make sure it is properly maintained.
Proper maintenance of natural fire gel spray will include the regular misting of the gel to help it maintain its moisture. If you've coated your commercial building evenly, then the fire protection gel will be in even layers. These layers should maintain their wetness throughout the protection process. After the fire threat is over, it is easy to remove our firegel from your commercial building. All you must do is remove it with water, assuming you've properly maintained it throughout the fire. When it comes to commercial fire protection, having a non-toxic fire prevention product will keep your employees safe and keep you from inadvertently harming your customers and the surrounding area.
Watch Fire Gel Work!
Cost-Effective Fire Retardant Gel for Sale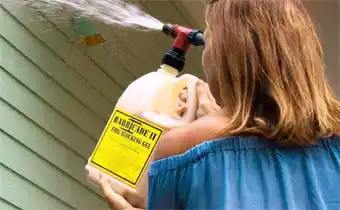 Our fire retardant gel for sale provides cost-effective commercial building fire protection and coverage. For example, one gallon of natural fire retardant spray gel will cover 500-700 square feet, depending on how thick the protection is applied. With capacities up to 5 gallons, you can rest confidently in our fire retardant gel for sale and its ability to protect your business.
Another cost-effective reason to use natural fire retardant spray, is the mixing ratio at which it works. Other fire retardants work with a ratio of 1-to-5, but our natural fire retardant spray gel works by mixing it with a 1-to-99 ratio with water. Your commercial fire protection plan will greatly benefit from natural fire retardant spray gel.
Ready for pricing on our fire retardant gel for sale? Contact us or give us a call at 1-863-261-8388.