Emergency Water Storage Tanks come in different styles and sizes. Each emergency water storage tank is designed to be a reserve of water for fire fighting, emergency relief, process water, washing water, water for remote locations, and more. From more temporary water storage to more permanent storage options, you will be sure to find the type of water storage solution you need for your application.
Types of Emergency Water Storage Tanks
We carry a variety of emergency water storage tanks that are all built for rugged reliability and reuse for years to come. When it comes to fire fighting in remote locations, storing emergency water during hurricanes, and have an extra supply of water for washing and other uses, you want tanks that are both reliable and accessible.
The types of emergency water storage containers that we carry include:
Folding Frame Tanks
Collapsible Pillow Tanks
Rainwater, Corrugated Tanks
Fire Fighting Water Trailers, Skids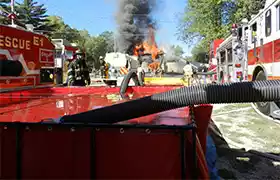 All of these temporary emergency water storage tanks have their benefits and strengths. Collapsible pillow tanks for example are both practical and economical. Their low-profile design fits into may locations and come in large gallon capacities. The collapsible pillow tanks fold flat for storage, and their versatility and easy installation make them perfect for a variety of applications. Gallon capacities range from 25 to 210,000 gallons.
Corrugated tanks are another cost-effective, durable emergency water storage tank. Corrugated water tanks are designed to be durable, reusable water storage options that are National Fire Protection Association compliant. Use corrugated tanks to store process water, irrigation water, water for toilets, process water and more.
Another emergency water storage solution we have are the fire fighting water trailer sprayers and fire fighting skid mounted sprayers. With water trailers and skid sprayers you can easily control grass fire, brush fires, and prewet your home and property in the event of a controlled burn. Skid sprayers offer hose reels and nozzles for targeted spraying. Water trailers are great for water storage for fire fighting, potable water storage, and remote water storage for livestock.
For this application page, we will focus more on Folding Frame Tanks. See Folding Frame Tanks for more detailed information and specifications.
Usage and Deployment of Temporary Folding Frame Tanks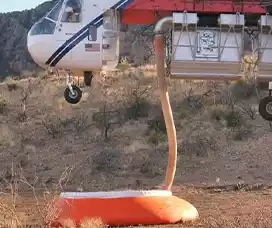 Fire responders often use folding frame tanks for emergency water storage in remote locations. Folding frame tanks feature an interior liner held up by a rigid outer frame. The frame is welded with steel or aluminum and can be quickly unfolded for easy setup and teardown. Typically, the folding frame tank can be quickly setup by two trained fire responders. Practicing the setup for this folding frame tank will be essential.
Before setting up the folding frame tank, you will want to make sure the ground is free of debris and sharp objects—anything that could pierce or damage the tank. Set up the tank on a flat, non-sloping surface. Folding frame tanks will primarily be used in rural areas where access to fire hydrants and other water sources are limited. Gallon capacity of folding frames tanks range from 500 to 5,000 gallons, depending on your application needs.
Benefits of Emergency Foldable Water Tank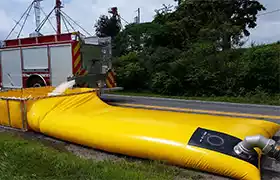 The folding frame tank is both rigid and flexible. Rigid when in use for emergency water storage and flexible when it comes time to setup it up, tear it down, and store it. The folding frame tank folds flat for convenient storage, has an open top for easy access, and will support a large volume of liquid when you need it most.
Stores Water in Remote Locations
Self-Rising or Folding Frame
Large Capacities of Water
Easy to Transport and Set Up
The folding frame tank is just one emergency water storage solution that provide durable, reliable water storage in remote, rural locations. For more information on our other emergency water storage solutions, Contact Us or Call Us at 1-863-261-8388.
Find out how our products can meet your needs by visiting our One Clarion products applications overview page.