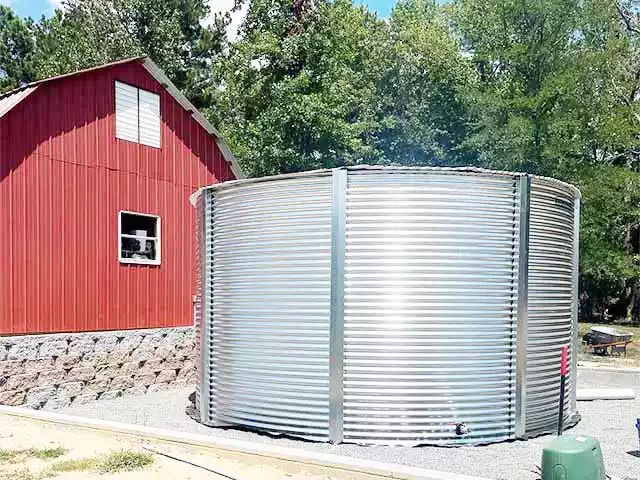 Our corrugated tanks are incredibly well built using only quality materials. They feature a 20 year "no leak" warranty, and are available at almost half the cost of the competitors.  They are only for locations with light wind, snow, and seismic loads however.  For maximum load capability,  please see the specific requirements on the specifications pdf for each tank.
The 5,000 gallon tank is the only size available as a DIY kit. Tank sizes from 5,000 to 102,000 gallons are available for self-managed professional installation, or we can install it for you. They are great for rainwater harvesting, potable water storage, and so much more.
If you need a corrugated tank, but are in a location with heavier wind, snow, or seismic loads than our tanks can support, we also offer HD Corrugated tanks.
To see our inventory online, please see: Corrugated Tanks
Corrugated Tank Flyers
Specifications & Line Drawings (by tank size)
Roof Line Drawings
Call us with questions or for a quote. Our friendly and knowledgeable customer service team is here to serve you. Call us today!
Our friendly staff is here to help you get the exact product you need!