Turbidity curtain installation needs proper connecting, deploying, and anchoring of a silt curtain in the location that it is designed to control floating silt and sediment. Additionally, correct turbidity curtain installation requires marine accessories made specifically for floating barriers. Below you'll find a general set of guidelines for floating silt curtain installation. Because each turbidity project is unique, each floating turbidity barrier installation guide will look a little different. You will need to adjust your turbidity curtain installation plan with your sales representative to make sure that different variables are accounted for.
Be sure to consider the type of turbidity curtain you are installing when formulating your floating turbidity barrier plan. The type of turbidity curtain will determine what types of floating barrier marine accessories are necessary to ensure successful deployment.
Floating Silt Curtain Installation and Assembly
Turbidity curtains usually come in lengths of 50 or 100 feet. These sections of turbidity curtain will need to be connected to form the length of turbidity curtain that you need for your project before the sections of turbidity curtain are placed in the water. The first step of floating silt curtain installation would be to lay out these sections and connect them.
Connecting Turbidity Curtain Sections
During the turbidity curtain installation process, connecting the sections of turbidity curtain is an important step. Follow the steps below for a general guideline of connecting turbidity curtain sections.
First, attach the bottom chain of the barrier.
Next, connect the aluminum section connectors.
Last, attach the grommet eyes.
Be sure to have adequate space to unfurl the turbidity curtain sections. Take special care to make sure each component of your turbidity curtain is in place, including any reefing lines. Double check the turbidity curtain components with your sales representative.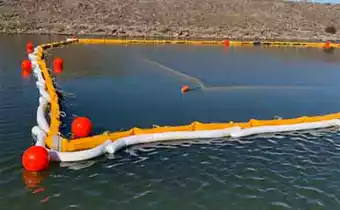 Floating Turbidity Barrier Installation and Towing
Once the turbidity barrier sections have been connected, the turbidity curtain installation process can continue. The connected sections of the turbidity curtain can be towed to its proper location.
It is best to keep the twine turbidity curtain reefing lines around the turbidity curtain until it has been anchored. This helps to ease the floating silt curtain installation process.
For more information on how to install turbidity curtain, give us a call at 1-863-261-8388 for more information. Or you can Contact Us through our webform. Call us at 1-863-261-8388 for more information or Contact Us.