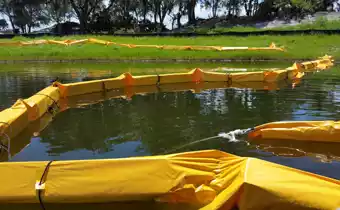 Use the turbidity curtain selection guide below to help you find the best option for your project. Which type of turbidity curtain do you need? There are many important factors to consider when selecting the type and grade of turbidity curtain for your application.
Be sure to consider the type of turbidity curtain you are installing when formulating your floating turbidity barrier plan. The type of turbidity curtain will determine what types of floating barrier marine accessories are necessary to ensure successful deployment.
Turbidity barriers are floating barriers designed to contain and control the dispersion of silt suspended within the water column. We also manufacture products for other types of marine applications, such as Boom for surface debris, pollutants, and oil. Water Baffles are another compliance solution for directing or slowing water for sedimentation, and Diffusion Mats are for minimizing the impact of water and resulting turbidity.
Our friendly staff is here to help you get the exact product you need!