Collapsible fire fighting tanks consist of a rigid outer frame and a flexible inner liner that is designed to withstand the rigors of outdoor use. First responders will be able to quickly set up the collapsible folding frame tank and begin filling it with life-saving water.
Our fire fighting water tanks come with several options for liner fabric and the custom construction of the folding frame tank. With all these customizations, you'll be sure to find the fire fighting water tank solution you are looking for for your application. For details, see Folding Frame Tank.
Questions about Fire Fighting Water Tank? Or how to minimize dredging pollution? Call us at 1-863-261-8388 or Contact Us.
Fire Fighting Solutions for Home and Business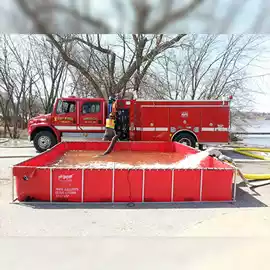 Folding Frame Tanks offer first responders quick access to water during times of fire. In rural locations, folding frame tanks supply water where it is often difficult to come by. The fire fighting water tanks are a portable solution and are designed to assist in remote fire fighting and other emergency response situations.
Made with a compact, folding frame design, frame tanks can be compactly folded and moved to needed locations. Once in location, fire fighting tanks can be quickly deployed to capture water from fire trucks, dump trucks, or water trucks.
Fire Fighting Water Tank Features and Benefits
As mentioned above folding frame tanks consist of a rigid outer frame and a flexible inner liner. The outer frame is made from steel. The inner liner has the following fabric options:
22 oz. HPR (High Performance Rubber)
22 oz. Vinyl
28 oz. Vinyl
Colors for the fabric consist of:
HPR: Red or Yellow
Vinyl (22 oz): Red, Yellow, Orange, Black or Blue
Vinyl (28 oz): Red, Yellow, Orange or Black
Steel Frame Features Consist of:
7/8″ o.d. round tube, 14 gauge wall structural steel with snag free finish
3/4″ square tube, 14 gauge wall structural steel with snag free finish
1″ square tube, 14 gauge wall structural steel with snag free finish
Die cut, heavy duty gauge hinges with heavy duty bolts
1″ square tube, 1/8″ wall structural aluminum with snag free finish – Aluminum square tube is 26% lighter than steel
1″ square tube with radius corners
1″ schedule 40 aluminum round tube frame
Aluminum hinges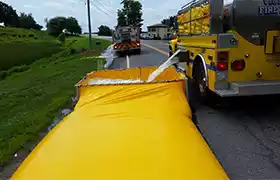 There are numerous options for these fire fighting tanks. Replacement liners and frame are available to fit all frame sizes. Additionally, custom liners and frame can be made as well. Patch kits are available for the folding frame tanks. Patch kits include:
1 pint of adhesive
Approx. 1 yard of material
Scissors
Seam roller
Scratch pad
Alcohol prep pads
Tool box
Other options for fire fighting tanks include:
22 oz. vinyl sides with heavy duty 28 oz. vinyl base liners
Double folding frames
40″ long equalizer drain sleeves
Grab handle and hinge protector kits for your existing tanks
Rectangular size frames and liners are also offered
Top covers available for all sizes of frame tanks
For detailed information on these fire fighting tanks, please see Frame Tanks.
Other Fire Fighting Solutions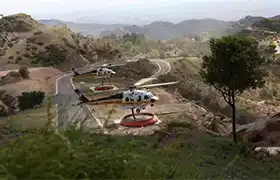 While folding frame fire fighting tanks are excellent reliable water sources for first responders, they are not the only means of fire suppression. We carry a multitude of fire fighting tools that can help first responders.
Water Strainers
'Flying' Helicopter Water Tank
Water trailers and water skid sprayers provide excellent water pressure and fire suppression capabilities. Fire suppression water skids can be placed in the back of UTVs and ATVs to go into rural and remote places. With fire hoses, boom sprayers, hose reels, pumps and engines, you can experience incredible water pressure and power to fight fires.
Fire gel is a super polymer, gel-based spray that is used to coat the outside of buildings to act as a fire retardant when wildfires and forest fires threatened. The great thing about Fire Gel is it absorbs a great amount of water and is ultra effective against flames and active fires. However, for it to live up to its full potential, it must be kept wet and misted regularly.
Whether you're looking for tanks, sprayers, skids, or folding frame tanks, we have a huge variety of large and small fire suppression solutions for your water storage needs. Find out more about all of our firefighting options at Fire Suppression Products (PDF).
---
Watch Fire Gel Work
---
Water Strainers are a great accessory and resource for first responders and operators who need access to clean water. In local bodies of water muck, sand, dirt and debris can interrupt the flow of water and damage equipment. However, with our supply of water strainers, you will be able to find the accessory that best fits your water tank and equipment.
While folding tanks are compact, easy to set up and provide reliable and abundant water, there's one thing they can't do: fly. That's where the multifunction helicopter tank comes in. The pyramid-shaped blivet water tank is made from heavy duty vinyl and is easily transportable by helicopter or truck. Get up to 600 gallons of emergency water storage.
Interested in learning more about the fire fighting water tanks and accessories we carry? Contact Us or Call Us at 1-863-261-8388 for more information.
Find out how our products can meet your needs by visiting our One Clarion products applications overview page.